Baked Alaska – Cozy Mystery rolled up in a Crepe
This is what I get when I schedule tours when I am not feeling 100%, I get a week full of books and reviews. I started off this week with a book which I had great expectations for, being a James Rollins fan.. it fell flat on it's face and I ended up with a comment circus with the author staging a siege, today's reviews are for two fantastic books, thank all that is holy! Two books that take mystery, thrillers and suspense in two different directions.
The first review is for Baked Alaska from an established cozy mystery writer, Josi S. Kilpack with her Sadie Hoffmillers Series. 
An Alaskan cruise is the setting for amateur detective Sadie Hoffmillers latest adventure. Sadie plans to spend time relaxing with her two grown children, Breanna and Shawn, and her boyfriend, Pete, while enjoying the luxury and cuisine of an elegant cruise ship and helping to plan her daughters upcoming wedding. But even as the crew prepares to leave port, Sadie has suspicions about the voyage ahead and the relationship between her normally easygoing son and a mysterious female passenger he obviously knows but refuses to discuss. When the woman is discovered unconscious during the second night at sea, Sadies apprehension escalates. Over the last few years, Sadie has developed an extreme dislike for secrets and it would seem her son is keeping one from her. *Includes eight new mouthwatering recipes, tested and approved by the official bakers of Sadies Virtual Test Kitchen.
Purchase
Review
This is a true cozy mystery. There is nothing that steps outside of the boundaries in the story design with this book. You have a wonderful inquisitive leading lady with two grown children, one of which has worked with his mom in past adventures as a private investigator, and a daughter who is trying to put together a fairytale wedding in England from a cruise ship in Alaska. In addition to an awesome mystery, the book has my foodie heart of pure bacon and baked goods going #nomnom.
Food is a huge part of this mystery and as the description states, ten of the chapters have recipes for food that the characters talk about. Each of her books do this and she has quite the following (she gained a new one person in me!)
Sadie is also an adoptive mother, both her grown children were adopted and low and behold, Shawn's birth mother shows up on the cruise! To top it off a birth sister he did not know about is with her, at least they think… As an adoptee myself I appreciate the diligence that was put forth in describing the process when closed adoptions are involved. I have searched for my birth parents and been the big sister who watched my mother go through one of her children finding their birth mother, who funny enough was much like Shawn's .. at least in the beginning… but to say anything else would be spoilers!
As with any cozy, there is no gratuitous sex (in this case nothing much at all just a light romance), no swearing. Like I said, this does not play with the genre, it is a pure and perfect cozy!
After my nightmare read and review earlier this week, I am total excited to say this book is a strong 4/5 stars…or should we say cupcakes! (Oh man I wish I could eat just one, but we are still here at the cabin!)
Now to make this all "wrapped up" I am throwing caution to the wind and sharing the crepe recipe, which is very similar to mine and my mums!
Sadie Style Made-To-Order Crepes (with toppings)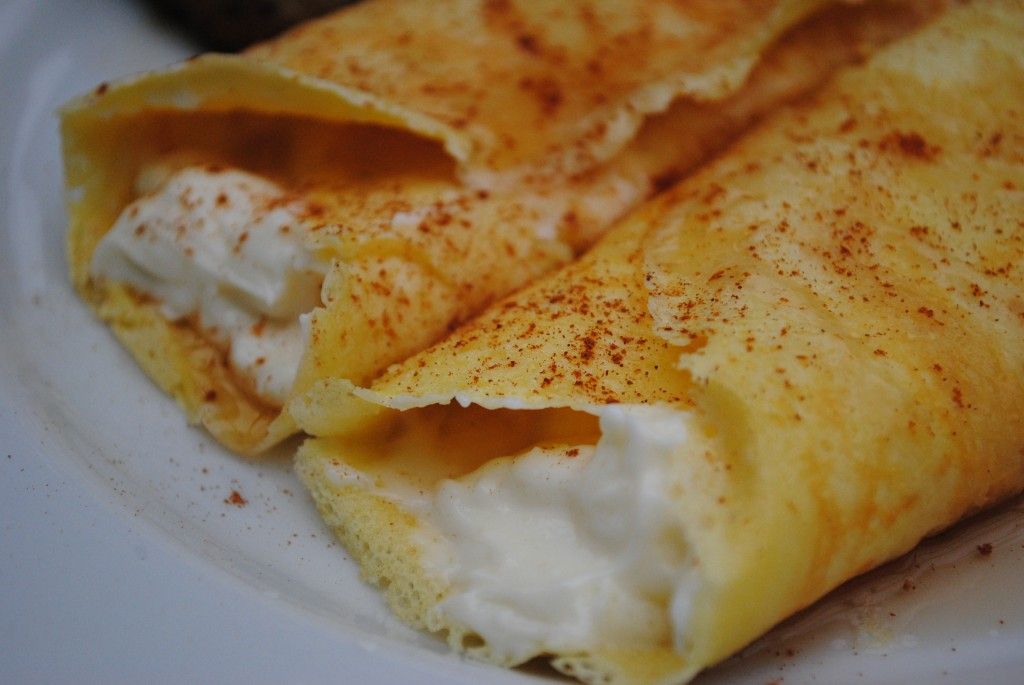 Crepes with Creme Cheese Filling
Made-to-Order style Crepes, from the buffet on the cruise ship.
Author:
Josi S. Kilpack (from Baked Alaska)
Recipe type:
Breakfast/Desert
Ingredients
4 eggs
1 cup milk
1 cup water
½ tsp vanilla extract (optional)
2 cups all-purpose flour
½ tsp salt
¼ cup melted butter
****Creme Cheese Filling Ingredients--
1 - 8 ounce package of creme cheese, softened1 cup sour cream
1 cup powdered sugar
Instructions
Put eggs, milk, water, and vanilla into blender. Blend until smooth. Add flour and salt. Blend until smooth, using a knife or rubber spatula to get all the flour off the sides of blender. When blended, add butter and mix until combined.
To cook, heat a crepe pan or medium sized frying pan on medium heat.(CG note - if you have never cooked crepes start by using a non-stick pan, trust me). Brush pan with butter or spray with nonstick cooking spray. Pour approximately ¼ cup of batter into pan (bigger pans require more batter) and tilt the pan until the batter covers the bottom of the pan in a thin layer.
Cook until top is dry. Flip crepe over with a rubber spatula or fork (don't do a fork unless you have done this before, trust me). Cook for an additional few seconds. )if you like darker crepes, increase heat- CG NOT time). Remove to a plate and add toppings as desired.
****Creme Cheese Filling Directions--
Beat Cream cheese until smooth, add sour cream and powdered sugar; beat until smooth. For a less swet version reduce the powdered sugar by ½ cup. If you are wanting more savory for meat filled you can leave the sugar out and add other spices to compliment your filling or nothing at all!
Notes
My mum uses almond extract instead of vanilla, it makes it more traditional Scandinavian. If you want to make this a dinner dish and fill with chicken or creamed spinach, omit the vanilla and put a dash of cardamon in it! These make great seafood dishes, a crepe casserole with king crab perhaps? VERY Alaskan!
Author Josi S. Kilpack
Josi S. Kilpack grew up hating to read until she was thirteen and her mother handed her a copy of The Witch of Blackbird Pond. From that day forward, she read everything she could get her hands on and credits her writing "education" to the many novels she has "studied" since then. She began her first novel in 1998 and hasn't stopped since. Her seventh novel, Sheep's Clothing, won the 2007 Whitney Award for Mystery/Suspense, and Lemon Tart, her ninth novel, was a 2009 Whitney Award Finalist. Josi was the Best in State winner in literature for 2012 and currently has two books (Banana Split and Tres Leches Cupcakes) as finalists in the 2012 Whitney awards.
Josi currently lives in Willard, Utah, with her family.
Praise for Baked Alaska
Josi Kilpack has done it again. You would think that all these events that occur in Sadie's life wouldn't be natural, but Josi Kilpack has a way of making you believe that it just "happens" and it is normal. I have grown to love Sadie's character, even if she is a busybody, you can't help but cheer for her as she attempts to solve a mystery or crime. One of my favorite series. 🙂  ~Goodreads Reviewer Lacey McNeill 
Blog Tour Giveaway
$25 Amazon Gift Card or Paypal Cash
Ends 3/20/13
Open only to those who can legally enter, receive and use an Amazon.com Gift Code or Paypal Cash. Winning Entry will be verified prior to prize being awarded. No purchase necessary. You must be 18 or older to enter or have your parent enter for you. The winner will be chosen by rafflecopter and announced here as well as emailed and will have 48 hours to respond or a new winner will be chosen. This giveaway is in no way associated with Facebook, Twitter, Rafflecopter or any other entity unless otherwise specified. The number of eligible entries received determines the odds of winning. Giveaway was organized by Kathy from I Am A Reader, Not A Writer http://iamareader.com and sponsored by the author. VOID WHERE PROHIBITED BY LAW.