Jane George the Queen of the Moon Dial (Fourth-Wall Friday)
Tick-Tock…
Ta-Da! Today being the last day of the Book Club Bash, and Fourth-Wall Friday I have a very special treat. Jane George, author of X-It is here today with an amazing lyrical piece one which I decided to dive right in and combine a few pieces from her world and mine. Photos of mine, some other stocks and a lot of hers… meandering around up up up with a crown and on top and ……. oh just read it is so wonderful! What a gift she gave me! So I had a bit to much fun with her theme. All images belong to either Jane George or Kriss Morton, what happened in between? We both ran into each other's walls… Enjoy!
The calliope sings Tick Tock, a steampowered tune of time…endless time no time. Space…endless space no space. The calliope's wordless tune makes a promise of stories. Toots and whistles and jolly fun lead me dancing, twirling, to the grandfather clock that towers a mile above me—a lemon-polished fortress of hours.
Tick tock toot toot, I have only so many heartbeats upon this earth.
The glass-fronted cabinet shows my tiny reflection yet I shy away and cannot look. I am unfinished, unshaped. There are stories up there in the moon dial. Stories I yearn for. Crave. Out-of-reach tales that will fill my soul, give my being weight, and Meaning. Make-believe will make me real. The untrue will force the truth. If only I can get there.
My fingers pry open the cabinet. It takes me years.
I hoist myself up into grandfather's body, step inside, heels clack on dark, hard wood. Beneath the Weights of Time, a cauldron glows hot and thick. Brighid's Cauldron, her forge of inspiration, calls my name. To accept the invitation is to take on the Taskmaster. Brighid says she will burn my toes if I back out now. The moon dial, shimmering faintly high above, and its riches is my goal.
Beware family, beware lover: I will throw over all else to get there.
On a rising column of cauldron smoke, I ascend far enough to grasp the time chains. From here on up, I must propel myself. Burning arms, bloody fingers, chain by chain by chain by chain. Rejection oil loosens my grip. Legitimacy spits me out, straight into the mouth of the doubt demons. Brighid, I beg of you, let me drop into the cauldron, rest for a while. Ha! She keeps her promise to burn my toes.
Tick tock toot toot, you have only so many heartbeats upon this earth.
I crawl. I clamber. Once in a blue chain, I float up a few links. I climb again. The moon winks. Just for me. It spins away, a tease, to be replaced by a sailing ship, a shepherdess, the rays of the sun. I am about to fall with the giddiness. Stories are close. I smell them, yet I grow heavier the higher I climb. I reach for the stars anyway.
The gateway to the moon dial beckons me through. Brighid smiles.
Chime the hours. Ring the bells. I live in the moon dial now. There is my own magical, traveling circus. Over there in the nightclouds, my heartbreak and denial. Cookie kings and imprisoned nature sprites dwell with me. Tales of romantic witchery beg for happy endings. They all whisper to me, Queen of the Moon Dial, sitting atop all the time in the world. And then down below the calliope sings.
Tick tock toot toot, I have only so many heartbeats upon this earth.
Jane George, author and illustrator  lives in the San Francisco Bay Area. She holds a BFA in illustration from the California College of the Arts and has won awards for her art.

A dedicated writer for over a decade, she produces and publishes her YA fantasy and literary titles under her personal imprint, Paper Grove Publishing.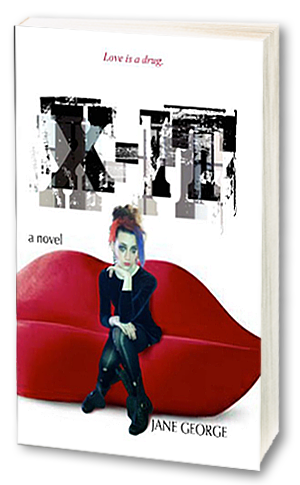 X-It
Elliot Peters has been sent to a jail to watch over what the press are dubbing 'Big Brother with Blood' – an event where some of the worst criminals in Darkness are allowed to kill one another for the viewing public's pleasure. With prison overcrowding, and the city running out of funding the new Mayor turned to UCPS (United Coalition Prison Services) to fund the policing of the city, and they teamed up with a TV channel…and the rest is going to be history, if things go well.
Except, included in with everyone that's been transported to this project is the religious fundamentalist Nate Niare, who indoctrinates via Nanovirus. And as everyone is jacked in and connected up, in one way or another, if he is allowed to escape or be killed, there's going to be a whole world of trouble.
Ever wonder what happens if you were to break into your world build and sit down and have a beer with? I think I would love to have tea with Jane Eyre, or discuss the best way to take care of vampires with Jane Yellowstone…maybe having Susie Shotgun take me out for some Angels Tears. 
Interested in being part of Cabin Goddess' Fourth-Wall Friday?
Allow yourself as an author to open up a new avenue of sharing your AUTHOR PERSONA & WORLD BUILD in a unique and creative fashion.. Just take a chance, write fluidly and from within that "place" you hangout at with your muse when you are writing. Or perhaps walk in the door and sit down, watch your characters, talk to them…Now opening up sign ups for 2013 – If you are an author and are interested in having your own experience with the wandering, eavesdropping Cabin Goddess and break through your own Fourth-Wall,  Fill out the form and sign up for a date. Currently am accepting dates for 2013. Also, please pperuse the archives and find out just what other authors have done
Book Club Bash Blog Hop 12-10 through 12-14 and over $700 in prizes!
Make sure you check out Book Club Bash Main Page for the rest of the weeks event guide, the authors info and a kick ass Rafflecopter contest to boot!
The Blog Hop
The discovery of Book Blogs, Tours and hops? It has opened up a whole new outlet for me. I love it. I am not writing for the teachers, the board of directors, my literary critic board .. I am writing and discussing and voicing my opinion with a incestuous group of awesome readers and writers! It has been amazing! Three of the above authors I would consider friends, or fast to with Lenore. Pavarti is one of my dearest friends and Anderson almost named his second born after me (Someone needs to name a baby Morton just because it is such a cool name… Morton Bacon, that works right?)
It has been a really fun week, the list of awesomeness can be found at the main event site on Novel Publicity's website.