Who is going to save "RUBY LAKE" from Zombies with @SherrillWillis
Hello Sherrill! ! Thank you for taking the time to interview with me. I am excited to have you on here on Yule for that matter! How exciting to publish a book right before Christmas! Ruby Lake has gotten some really wonderful reviews and I remember fixing up your pretty beach photo last spring… I want to go play in the sand! Your series now has three books to it, (You can find the info below my friends) and the latest is this cool Christmas release
Stay A While in Ruby Lake
After a shooting incident—which left Sydney Greyson and her new sister-in-law, Annie Greyson, injured—the residents of Ruby Lake now face more difficulties than ever before. Sydney is left trying to navigate a new marriage and the upcoming arrival of her twins, while dealing with the fear that shadows her every waking moment. Annie is coming to terms with a life drastically…more
CG -Tweet the book: You are challenged to tweet a synopsis of the book to include your tweet handle, GO! 
City Girl finds the life she's always wanted in rural Wisconsin chaos ensues… #RubyLake by @SherrillWillis http://amzn.to/1dt4NPf
Tweet
//
CG – Introduce yourself to the captive audience that you now have before you. (As in tell us something NOT in your bio, give us a dirty little secret not having or having to do with your writing – please take the chance to not take yourself too seriously and enjoy!)
Let's see…I managed a Metal band, MDSO, in Sacramento and used to work for Rob Reiner – but don't be too impressed by that – Rob never knew me as anything but as "The Money Lady" – and no, I'm not telling you why. I'm the (tired) mother of 3 kids, my twins are now grown (YAY) and my little one is 8 years old. I started writing because I was tired of working in offices around people I couldn't stand. Not all of them, but there was always this one…
CG – Is there a genre, other than the one you currently write in, that you wish you could break into?
Fantasy, but the world building that goes on there is so overwhelming to me! I love reading it though.
CG – How about a little flash-fiction…. Your prompt is "DARKNESS"… GO!
In the darkness of my soul I find shelter. He seeks me there, in that place in between the two worlds – he lives in light but can't stay away. He says he hates himself for it, but little does he know how he lies. He's the reason for my darkness, and without him, I'd never touch the light.
I have no idea what I did there, but there you go. 😉 CG – Ohhh I love it!
CG – Tell us a little about the Town of Ruby Lake? What's your favorite coffee shop, restaurant and hot mailman? What's the latest gossip from the local post office worker?
Oh the coffee shop is easy – the Stay A While – that's where they all hang out. Best restaurant is Buckethead's – the garlic/bacon/cheeseburger causes mouth-orgasms, seriously. Hot mailman?? Um, "I" don't find her hot, but the guys do – Millie, and she's in her 60's. The retired guys all hang out on their porches when she's on her route. Every Single Day.
CG – If you could cast one of your works, who would you choose to play your main characters?
Sydney Myers (Greyson) – Jennifer Lawrence – she's adorable, and so is Syd – she would pull off the clutzy but loveable character to a T!
Zeke Greyson – Chris Hemsworth – because I'm a dreamer and want to hear him say "

I'm so glad I get to keep her.

"
Illana Garet (Greyson) – oh man…Selma Hyek – a younger version with less accent – but would love to hear her say: "

I never date men prettier than I am.

"
Alex Greyson – Bradley Cooper – but he'd have to dye his hair brown – oh but those eyes are ALL Alex!
CG – Do you have any vices that you turn to while you are writing (as in what candy / snack food / drink / 80's hair band you break out in song too when you just cannot figure out the next line to write and that bitch of a muse is off on her own hunt)?
I must, Must, MUST have Pepsi (in a can, almost frozen — CG – OMG I LOVE YOU SOUL SISTER!), and wrote all of Wedding (literally) to "Just Breathe" by Pearl Jam. I still don't know why. 
CG – What do you do when you're not writing? (ie: What festive things do you do for fun? What things do you do when you make yourself have fun, and what is on the top of your list to do when you actually take two days for you (and family)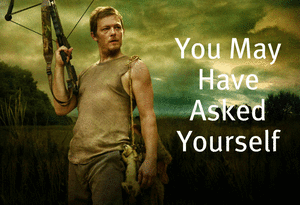 …I sleep. Is this a trick question?? Fun…hmmm…Facebook, I'm addicted. Go out to eat and OH I LURVE "The Walking Dead" – I will go plant myself over at my bff's house and we'll Netflix a season and while we are both on our laptops (I write, she plays Farmville – be nice now) and stare at Daryl Dixon….oooh – can he play Zeke and I'll play Sydney? Just a thought. (CG – No comment on the Farmville… but Daryl…. I believe this says it all)
CG – During the zombie apocalypse, what fictional character would you want watching your back? (I cannot help myself)
LOL – Daryl Dixon!! (HAHAHAHAHA – I swear to GOD I had no idea this question was here when I answered the above!! You don't need to include this part – just for you.) CG – Oh hell no, We gonna have even more Daryl goodness!
CG – If your book was a meal what would it be? Meat and potatoes? Vegetarian? A light nouveau cuisine?
It would be a Super Bowl spread: Cheese Enchilada's, spinach dip, nacho's, chips and dip, carrot sticks and celery, cheese & meat trays – a lot of everything for everyone.

Let's get to the fun part of the interview… the food!
CG – Create a drink (with or without booze) representing your book in name and ingredients :
 The Ruby Lake

Sweet, smooth but with a bite.
Butterscotch Schnapps (Buttershots)
Kahlua
Cream
Whip 1 ounce of Kahlua with  1/4 cup of whipping cream. (It won't completely whip thick, you want to stop right when it starts to get thick) Store in fridge for at least 15 mins.
Fill a chilled shot glass halfway with Buttershots into a chilled shot glass
Float the cream mixture on top of the Buttershots.
Sip? Nooooooooo make sure you slam the first one, then sip the second.. yes you need two! Ohhhh and another fun way you can dip the edge in Hot Damn and then into rock sugar! Enjoy the sweet smooth nipply nibbly goodness!
Wait.. or you can just Or shots of Hot Damn, that would work, too. *giggling*
Illana's Cheese Enchiladas

Ingredients:
2 packs of corn small tortilla's
3 cans of mild enchilada sauce (add crushed red chili powder – about 3tsps) (or make your own, see CG's recipe below!)
2 blocks of cheddar cheese
olive oil
Directions:
Heat in a small sauté pan, 1 TBSP of olive oil + pour some sauce, enough to cover the bottom of the pan – dredge each tortilla through the sauce until it is covered and pliable, put in a glass casserole pan (bottom of which I spray with cooking spray).
Spread cheese in the middle, roll up and repeat until you have three-five pans of these – pour the remaining sauce over the top, sprinkle with cheese and cover with tinfoil.
Bake at 350 for 30 minutes and enjoy for days and days!
Note: You can always add chicken or my personal favorite – brats that have been pre-cooked and chopped up.
I love Enchiladas and have been making them as a family favorite for years. I make my sauce each time since learning to make them. I did not know they had canned enchilada sauce LOL)
Kriss' Red Enchilada Sauce
Ingredients
2 TBSP vegetable or canola oil
2 TBSP flour
2 TBSP chili powder
2 TBSP chipolte powder
1/2 tsp. garlic powder
1/2 tsp. fine ground sea salt
1/4 tsp. ground cumin
1/4 tsp. powdered oregano
1/4 tsp. red chili powder
2 cups low sodium chicken broth (If you make your own stock and use a lot of salt, do not add the salt till you taste it.)
Method
Heat oil in a small saucepan over medium-high heat. Add flour and stir together over the heat for one minute. Stir in the remaining seasonings (chili powder through oregano). Then gradually add in the chicken broth, whisking constantly to remove lumps. Reduce heat and simmer 10-15 minutes until thick.
Heat up oil in a small saucepan over medium-high heat. Whisk in flour for about a minute and start whisking in the remaining seasonings.
Gradually add in chicken sauce.
You also can refrigerate in an air-tight container for up to two weeks.
NOTE – You can use all chili powder but the chipolte really makes a lovely smokey flavor.
CG – FAST and FURIOUS – Don't pause just answer what comes first to mind
Beer, Wine, Shot Glass and a bottle? …Of Rum
Coffee or Tea…. Or do you like iced veni, 2 regular shots, one decaff.. 3 pumps white mocha, 4 pumps gingerbread, half soy, half nonfat, 2 splenda, 3 equals, easy ice, with caramel and chocolate drizzle on top? One cup of coffee, 3 pounds of sugar, and a lot of whipping cream. (CG – BUWAHAHAHA you should read how I LIKE it!)
Hell in a Hand basket or by the summoning of Demons? Summoning of Demons – as long as I am the summoner. (that should be a word…)
Helmet, Baseball Hat or beanie so you can look all dark beatnik slam poet-like?  Helmet – my life is crazy.
Killer clown or Clown killer? Clown killer, once I woke up from fainting.
Spirits, Demons or Killer Clowns ?(so I am a little obsessed) …Spirits that can't do any damage – the other two can and I'm not going through that again.
Jingle Bells, Gingerbread or Ho-ho-ho all night long? *cough* um…I like the "all night long" option.
Duct tape or Zip Ties? Nice lead in…zip ties.
Chainsaw arm or shotgun leg (gotta throw a zombie apocalypse related question in here! J)? Chainsaw arm, much more useful!
Warp speed or Worm holes?  Worm holes, I don't want to know where I'm going, but I don't want to miss anything either.
House of Mirrors or House of Horrors? Nooooooo – not the mirror's – that would be a house of horrors!
Learn battle techniques from a viking or a ninja or Tammy Fae Bakker? Since I'm a direct descendent of Erik the Red – Vikings, with a little Tammy Fae flair. (CG – OK… I had to see just how good he would look… yep, KICK ASS)
CG – Anything you would like to add… appearances, upcoming releases, where I can find someone to adjust the algorithms for my time machine?
Thank you so much for this fun interview, and for those that skimmed – you missed a badass recipe up there. Illana will come kick your door down if you don't read it. I hope you all check out my Ruby Lake series, and please do come say hi to me on FB here: https://www.facebook.com/AuthorSherrillWillis and I'll work on finding those time machine parts for you, Cabin Goddess. I know a guy who knows a guy…
Ruby Lake Series
by Sherrill Willis
Amazon •
Sherrill Willis introduces more twists and turns once again in the beloved Ruby Lake series. After a shooting incident—which left Sydney Greyson and her new sister-in-law, Annie Greyson, injured—the residents of Ruby Lake now face more difficulties than ever before. Sydney is left trying to navigate a new marriage and the upcoming arrival of her twins, while dealing with the fear that shadows her every waking moment. Annie is coming to terms with a life drastically different than the one she had hoped for, and makes some painful decisions regarding who will be in her life and who she must let go. Illana Garet will have to make some tough choices, and will gain and lose much during the process. Meanwhile, the women at the local coffee shop, the Stay a While, will do everything in their power to keep everyone's spirits up, amid much laughter and love.



None of the members of the close-knit group in Ruby Lake will be left unscathed in the upcoming events that will shape them all. Come with them to celebrate the joys and grieve the losses that touch us all. Join them to find out why so many choose to Stay a While in Ruby Lake.



See what people are already saying about Stay A While in Ruby Lake:

"Can't wait to see where she goes next."

Beverly Daugherty  9 reviewers made a similar statement

"The second ended with a cliffhanger, so of course, I had to read the third to find out how it ends "

Karen E. Ruppe 3 reviewers made a similar statement

"Without meaning to sound trite, I laughed out loud, I cried real tears, and I clutched the book to my chest at the end."

Jayhawk Momma 1 reviewer made a similar statement
Related articles
Who is going to save "RUBY LAKE" from Zombies with @SherrillWillis Erik the Viking in drag? http://t.co/Tp887zSK9C pic.twitter.com/160Jvq8RWi

— Cabin Goddess (@akmamma) December 21, 2013