Don't Laugh at "The Retreat" #1: Pandemic by @CraigDiLouie… RUN!
The first episode in a new novella series by acclaimed horror writers
Craig DiLouie

,

Joe McKinney,

and

Stephen Knight

!
"The Retreat" #1: Pandemic
As a new disease turns people into sadistic, laughing killers, in Boston, a battalion of light infantry struggles to maintain order. As the numbers of infected grow, the battalion loses control, and the soldiers find themselves fighting for their lives against the very people they once swore an oath to protect.
During the ensuing collapse, the lost battalion learns the Army is still holding out in Florida, which has been cleared of the Infected. Harry Lee, its commander, decides the only hope for his men is to get there. But first they must cross more than a thousand miles of America that has been turned into a war zone, fighting a fearless, implacable and merciless enemy.
"The Retreat" #1: Pandemic is a boy book *giggling* yes, I am a girl and it is a boy book and I totally dug it, balls to the wall dug it because:
a) it was written by Craig DiLouie and I want to have his brain babies
and



b) I like boy books.. especially ones with big guns and explosions and homicidal clowns..err. klowns.. err… I know I am confusing! Just read on
Craig was introduced to me when I read the Infection (read review), which was introduced to me by my friend Jessica who has a tendency to introduce me to books written by authors whose brain pans I want to lick like a lollypop!
Now the Klowns in this book would wanna lick it ..*giggle* and stab it.. yes I just giggled! I giggled a lot reading this book and was kind of knocked off kilter with the premise and some of the situations, and had a lot of OMG moments…I had to put on my super hero costume, (aka goggles and cape) and play the "what if" game.
What if I was confronted with a horde laughing people wearing other people as decoration… what I:
a) run
b) start shooting (because of course I would have a gun from the store I looted or I would be a Nasty Girl (embrace that slur, yes I would)
c) join in the fun with a chainsaw and my own loincloth (hey, gotta have a ringer choice)
Whatever my choices were, since it is a boy-book I kind of made it an interactive read. I hear you, you are wondering if I am making fun of the book. I am not, but this is not usually a book I would get into unless it was written well and had all the military lingo right and the chain of command done well and everything else with the military right because I was part of the military in another life (from NCO's wife to military contractor and officer's wife). I get pretty irritated when folks do half-ass research with a military heavy book. These buys didn't even come close!
In fact the more I read this the more disturbed I was, my face twitched a bit and I felt something nagging in the back of my mind. I was not sure what to think. Having lived in the Boston area, where the book took place, I was even more out of place, the dreams I had were messed up. I can't really discuss the book, there would be to many spoilers.
Like his book Infection, it is not a zombie book, there is an infection, sure, but they are not real zombies, and also like Infection, they are driven in a mob like mentality… oh and they also like playing with water balloons and spreading the infection. What the two have in common, I will let you guess and go read the book to find out. What I can say is it starts off with something you think is a typical premise and mixes in something completely new and different, kind of like adding cayenne pepper to your pancake batter or salt to your carmel, sure not new now, but it was at one point wasn't it? Craig DiLouie is in the ground floor with this little bloody gem and of his and I like many others cannot wait for the second novella to come out! And later..
The movie…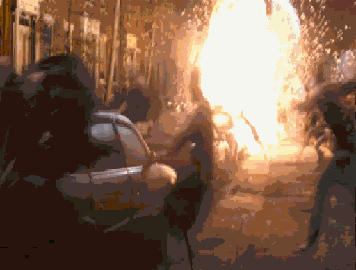 Oh, one other thing, if very rational people who never think things are funny, and normally have to force a laugh start finding things funny which normally shouldn't be… they start laughing? RUN… RUN FAST.. VERY FAST!
9 

out of

 10 

water balloons filled with…………… (gotta read the book, meat puppets!)
Craig knows I want to have an intellectual crush on his bad boy self and waved a copy of this bad boy at me and I grabbed it right up… I didn't promise crap but I am writing a review, of course! *GRIN*
About the Author
On top of being the father of my fictitious brain babies, Craig DiLouie is the author of zombie favorites TOOTH AND NAIL, THE INFECTION and its sequel THE KILLING FLOOR, as well as THE GREAT PLANET ROBBERY, a science fiction novel, and PARANOIA, a psychological thriller.
This book was also written with two other authors 
Stephen Knight
Stephen Knight is the author of the bestselling zombie apocalypse tale The Gathering Dead and the follow-on novella Left With The Dead, as well as the horror thriller City of the Damned and the action-adventure Hackett's War. Together with Derek Paterson, he wrote the erotic thriller White Tiger. Knight lives in the New York City area.
@sknightwrites ~ Website ~ Amazon
Joe McKinney
Joe McKinney has been a patrol officer for the San Antonio Police Department, a homicide detective, a disaster mitigation specialist, a patrol commander, and a successful novelist. His books include the four part Dead World series, Quarantined, Inheritance, Lost Girl of the Lake, Crooked House and Dodging Bullets. His short fiction has been collected in The Red Empire and Other Stories and Dating in Dead World and Other Stories. In 2011, McKinney received the Horror Writers Association's Bram Stoker Award for Best Novel
@JoeMcKinney ~ Website ~ Amazon ~ Goodreads
Related articles