Lions, Tigers, & Sexy Bears Oh My! Secrets, Review & a Recipe @CandaceHavens
Lions, Tigers and Sexy Bears.. and better than sex brownies and 10 dirty secrets? OH MY!
By the way, I used Grammarly to grammar check the review portion of this post, because I was too busy drooling over my better than sex brownies to pay attention to where the commas went. Frankly, I needed to make sure you saw just how fun and awesome this book was and not get distracted by my bad editing skills!"
Welcome Candace! Thanks for stopping in, pull up a camping chair and have a cup-a-sex.. aka better than sex browning a cup! Now.. spill all your secrets and in trade, I will make more brownies and review this taste treat of a book! OH MY! ;
Hey Gang, So excited about hanging out with you today. I've actually mixed up the secrets today. Some may be mine, others might belong to my characters Ainsley and Luc. I have a feeling you'll be able to figure them out.
1. One of us has bad guys chasing us. Bad guys who want us dead.
2. One of us was a jazz and ballet dancer back in the day.
3. Two of us have trouble breaking things during sex. As in, punching walls and breaking granite counters. (Smile)
4. One of us owns a bar in Montana where shifters like to hang out.
5. One of us used to be an FBI Agent.
6. One of us, okay maybe two of us, has a penchant for eating sweet things when we're nervous. (I got you both covered, I made brownies!)
7. One of us is an art gallery owner who has been unlucky in love.
8. One of us has abs of steel.
9. One of us is in love with trouble, almost as soon a she walks in the door. But we're hard-headed and can't allow ourselves to feel again.
10. One of us has a best friend, who happens to be a tiger.
 Review
I am going to admit it, I signed up to read and review this book purely because of the title! Yep, it is not just the cover that sells me, but when a name like this can seize me and inspire me to giggle like a schoolgirl with my friend, who also ended up reviewing for the tour, well… it's a winner! Great job Entangled and Candace!
Though you all have heard it, I am going to say it again, I am not a romance reader. I SWEAR TO ALL THAT IS HOLY… BACON! I just cannot stand traditional romance, and yet due to me being the host for Bewitching Blog Talk Radio and a fan of I Smell Sheep and my girls (yes I am outing you all) in my Gutter Girl Party Crew group, I have been sucked into the world of Paranormal Romance, specifically of the shifter variety. Yea, yeah, yeah… Keep laughing! One day when you look up and realize you are reading a Bodice ripping shifter book with tons of hot alphas you will be singing my song!
What makes this book, romance at that, something I would devote time not only to review, but also a recipe creation also? Well first off it is FUN! I mean giggling laughing fun. Runaway heiress who frankly is not entirely sure what she is running away from other than she does not want to get killed. Our girl Ainsley's antics had me rolling my eyes with her outfit choice. The fact she's not even prepared for a Montana winter? She could have bought a jacket with the rust bucket of a truck!  I laughed at her calmly having a conversation with a Tiger who appears to be laughing at her after causing the crash of her sparkly new rust bucket of a truck… In the middle of Montana… In a SNOWSTORM *Giggle.. Snort.. Giggle*
She is rescued by the local sheriff (yeah yeah keep cackling) and ends up walking into a bar owned by Luc who is at present watching his waitress go into labor. Since this is not the best time to be without help, the moon is coming up on being full, (SHIFTER BAR, remember?), he is somewhat stuck when Ainsley walks into the bar. Girl walks into the bar…. Wait this could be a joke, right? Except it is not, it happens to be pure magic, playful and spontaneous magic!
Ainsley quickly sheds what could easily have been a spoiled rich girl attitude and takes on a bunch of shifters with ease and finesse, even when she finds out just what they are. She almost doesn't bat an eye. Well actually she doesn't, she just grabs the pan of brownies, locks herself into the closet and deals with it!
I loved the characters; they were strong, loveable and even with a few of them being shifters… they were real. Ainsley is not the skinny ass Paris Hilton rich girl. She is a hard working college graduate with a head for business and quickly takes on the role as head waitress and also the person who will heal Luc's broken heart.
Biggest issue? It is too fast a read! This is the reason I am not going to give it five stars. It felt rushed, and I was frustrated. Still, what I was planning on being a silly Bodice ripping paranormal romance turned into one of the most fun reads of the summer! In honor,  I recreated my brownie in a cup (I included my better than orgasms coffee in my cup so if you want it REALLY yummy, try Green Mountain Black Magic.. OMG down to my … lady-bits, good!)
About the Book
A Montana town where no one is who they seem…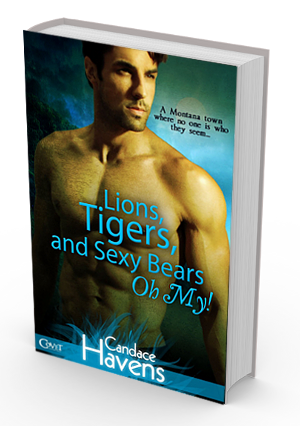 Everything about runaway heiress Ainsley McLeon screamed trouble—from her luscious midnight locks to her Louboutin-clad toes.  Yet sexy, stoic bar owner Luc couldn't deny the instant connection he felt to the tempting stranger…or the long-dead feelings she evoked.  She could work in his pub until her truck was fixed but after that she had to leave town for good.
Ainsley traveled with her own emotional baggage and there was no way she'd fall for the bear-tempered Luc…no matter how many passionate nights she spent in his bed or how safe she felt in his muscular arms. Can these two opposites find love in the middle of a blizzard, or will Luc's darker side and Ainsley's past catch up with them?
genre: paranormal romance
pages: 168

Cup-a-Sex aka Better Than Sex Brownies..in a cup

This makes an amazing rich and dense brownie in about two minutes from first crack of the whisk to the beep of the microwave. As you can see, 12 ounce cup, mine which happens to RAM the brownie in, baby! This is even VEGAN. No eggs! Though if you use bacon salt (wink) you will kind of ummm well, ya! You can also do half the oil for apple sauce, but it is to dry if you do it all applesauce, tried it, it is good but its not really.. its not as sexy! I use a 1500 microwave and it takes 70 seconds, but others take 75, basically try it out and find what yours cooks at the best, it can over cook easily!
Ingredients
2 Tbs vegetable oil
1 Tbs water
1 1/2 Tbs of coffee (cooled)
1/4 tsp vanilla extract

dash salt (

seriously just a dash, not a pinch & this does something all scientific like, I tried not using it, my brownie was a sinkhole..I also have used

bacon salt

.. 

seriously

 epic)

4 Tbs granulated sugar
2 Tbs unsweetened cocoa powder
4 Tbs all purpose flour
topping of choice (

a few nuts to make it look pretty, perhaps a small spoonful of chocolate or peanut butter chips even some crumbled candy

)
Directions
In a 12 oz coffee mug, add water, coffee, oil and vanilla and whip it up like mamma isn't watching (:)

Just whisk WELL & call it dirty names

).
Add each of the dry ingredients one at a time and whisk well. (

I add one Tbs to over the top and fold in then whisk, the last being flour. Do NOT over do the flour, just like with a regular brownie mix this can cause it to be to dense

)
Press in your nuts. 

Yes do it.. make this better than sex brownie in a cup.. yaaaaa.. oops sorry *wiping brow and looking around* errrrr just put pecans (or other nuts) or perhaps the other suggested toppings in the middle, the brownie will slightly rise around it and make it look epic!

Microwave for 60 to 90 seconds. Center should be slightly molten.

Careful not to overcook, it can dry out easily. Best to do tests to find out what is right for your microwave. ie: mine is 70 seconds.

Enjoy with a spoon.

Careful brownie will be hot… almost as hot as an alpha male shifter.. almost

 

About The Author
Bestselling author Candace Havens has written twelve novels for Berkley, Entangled and Harlequin. She is also in the anthology Spirited, the proceeds of which help a literacy organization.

Her books have received nominations for the RITA's, Holt Medallion and Write Touch Reader Awards.
She is the author of the biography Joss Whedon: The Genius Behind Buffy and a contributor to several anthologies. She is also one of the nation's leading entertainment journalists and has interviewed countless celebrities including Tom Hanks, Nicolas Cage, Tom Cruise, George Clooney and many more. Her entertainment columns can be read in more than 600 newspapers across the country.
Candace also runs a free online writing workshop for more than 2000 writers, and teaches comprehensive writing class. She does film reviews with the Dorsey Gang on New Country 96.3, and is the President of the Television Critics Association.
Related articles