Good morning America and @HiJayPosey "THREE" greetings from Alaska!
This Tour has 20 stops with a different question at each stop! Answer as many questions as you like! Angry Robots is sponsoring this International giveaway with 2 signed copies of Three by Jay Posey! You MUST enter your answers in the Rafflecopter over at My Shelf Confessions (my sistah's in between the pages, baby).  The links to each blog stop are on their tour page where htey have a grand interview on bounty hunting as well as in the widget! Answers to the questions can be found.
On Jay's Website
In the Book Description / Jacket Info
By reading the Chapter 1 Excerpt
Here's the questions for my stop: Question #5 

– 

What does Jay call his Blog, instead of a blog?

"
CG -Tweet the book: You are challenged to tweet a synopsis of the book to include your tweet handle, GO!
JP: A reluctant gunslinger escorts a dying woman and her young son across a wasteland to a distant sanctuary. #FearTheWeir
CG – Introduce yourself to the captive audience that you now have before you. (As in tell us something NOT in your bio, give us a dirty little secret not having or having to do with your writing)
JP: My name is Jay Posey, and pretty much ever since pre-school, lots of people have called me "Jay Posey", (or maybe more like "Jayposey") even though I am frequently the only Jay in the room.  I guess it's one of those names that's hard to stop once you get started.  A good buddy of mine, with whom I play many video games, has a daughter who, when she was maybe four or five, would wander over to him while we were gaming together and she would lean in close to his microphone and yell "HI JAY POSEY!".  That's how I got my Twitter handle @HiJayPosey.  It was always sort of surreal to be in the middle of running around blasting relentless waves of zombie hordes, and hearing that little angelic "HI JAY POSEY!" come through the headset.  Yes, I realize how nerdy it sounds to talk about gaming with a headset.  For some reason my wife still loves me.
CG – Is there a genre, other than the one you currently write in, that you wish you could break into? 
JP: I have many projects in various stages of completion (which is to say, somewhere between 1 and 6% complete), so there are definitely other things I'd like to do.  Probably too many other things.  I have a more military sci-fi project, a fantasy-ish one, and then a couple of others I'm not sure how to categorize yet.
CG – When it comes to the genre you do write in, what are a few of the books or writers that have influenced you and your own writing (yes I can actually ask a serious question?)
JP: For sci-fi in general, the biggest one is probably Neuromancer by William Gibson, but for Three specifically, I really have to credit Vernor Vinge for spinning my brain off in that direction.  He gave a keynote address at a game development conference in Austin a number of years ago, and during it, he very casually rattled off a list of interesting things he thought technology would be doing over the next few decades.  It really got me thinking about a lot of things that I'd never given much consideration before.  From those thoughts, I ended up writing a short story that later inspired the world that Three is set in, and so I think there's a pretty direct lineage back to his lecture.
There are a ton of other authors out there who've probably influenced me in ways I don't even recognize; Isaac Asimov, Frank Herbert, Ursula Le Guin, Piers Anthony, Orson Scott Card, a bunch of others I'm forgetting at the moment.  I read a lot of sci-fi short stories when I was a kid, before I really paid much attention to author's names (sorry folks!), and I'm sure they've all impacted me in some way.  I think sci-fi has always been so attractive to me for the way it can open your eyes to entirely new worlds while also so frequently exploring what it means to be human.
CG – William Gibson is one of my herros and as for the rest, there was a reason I was so drawn to you! On all accounts! A Fire Upon the Deep by Vernon Vinge is one of my favorite books. Love finding people like you in the fray of half par PA writers!
CG – If you could cast one of your works, who would you choose to play your main characters? 
Write one line you would love for him/her to say from your book.
JP: I'm going to cheat on this one and say I'd rather let the readers decide for themselves what the characters of Three look like.  I think there's a great deal of fun to be had for readers to be able to form their own personal vision for worlds and characters.  For Three, I tried to walk a line of giving people enough information to visualize the characters without necessarily describing exactly how I pictured them, and it was very satisfying to me when early readers of the manuscripts had some wildly different descriptions of Three especially.
CG – Maaaaaaaaaaaaan  OK it's your show .. but man those lines sounds awesome! Hmmm gonna have to hurry up and finish this and I will post MY dream cast when I review!~ Pinky swear!
But some lines from the book I'd love to hear actors bring life to, assuming they show up in the same context, are:
Three:  "There aren't any good men left, Dagon."
Cass:  "Hey, Jantz. I'm sorry, kid. Wrap it up tight, you'll be okay.  You stay clear of the Bonefolder."
Wren:  "It's not safe for you."
CG – What is the first thing you would do if you woke up one morning to find one of your books on the NY Times Bestsellers List?
JP:  Most likely I would go back to bed, get up again, and check to see whether or not it was still there.  And if it was, I would probably go find my wife and act all nonchalant and say something like "Hey, so, can you check something for me real quick?", and then I'd show her, and let her do all my jumping up and down and running around screaming for me, because I'm not nearly as expressive as she is.
CG – Do you have any vices that you turn to while you are writing (as in what candy / snack food / drink / 80's hair band you break out in song too when you just cannot figure out the next line to write and that bitch of a muse is off on her own hunt)?
JP:  I have a weakness for Sour Patch Kids, and I've been drinking a lot of carbonated water lately.  I pretty much always have to have something to sip on, and I've gone through a lot of different beverages of choice; soda, sweet tea, coffee, green tea, etc.  But I've settled on carbonated water of late, because it's more fun than regular water, and it doesn't have any caffeine- or sugar-related side effects.  Also, I tend to listen to movie soundtracks when I write.
CG – Sour Patch Kids are my crack! That is all
CG – What do you do when you're not writing? (ie: What festive things do you do for fun? What things do you do when you make yourself have fun, and what is on the top of your list to do when you actually take two days for you (and family)
JP: I don't remember anymore!  Actually, I'm a big fan of outside … I enjoy hiking and archery and rock-climbing when I can get to it.  We're also a game-playing household, so we have a closet nearly overflowing with board games.  Spending time with my family is one of my favorite things to do.  But if I'm on my own, probably unsurprisingly, there's a good chance I'll be reading something.
CG – During the zombie apocalypse, what fictional character would you want watching your back? 
JP – Three, of course! 
CG – Cheeky bugger! *GRIN*
CG – If your book was a meal what would it be? Meat and potatoes? Vegetarian? A light nouveau cuisine? (I do a recipe with many of my authors this maybe an opportunity for you to share a recipe you think could go along with this? Or just describe the actual meal, this would be the whole thing not just one dish – see below for bonus round)
JP: I think it'd probably be a hearty stew of some kind.  Lots of different elements all thrown into a slow-cooker, with a lot of different flavors all working together to create a satisfying and nourishing dining experience.  Maybe a delicious Brunswick stew?
Let's make this a real Cabin Goddess "Interview and a recipe" 

JP: I'll call it–
Three In The Chamber
(basically an Old-Fashioned and a half.)
1 sugar cube (or appropriately scavenged synthetic sweetening substitute)

1 splash of water (from your canteen, optional)

3 doses of

Angostura

bitters (start hoarding now)

1 ice cube

3 ounces of whisky (readily available after the apocalypse both as a drink and a currency)

1 antique old-fashioned glass, like they made them before the collapse (optional)
Place the sugar cube in the bottom of your drinking receptacle (or sprinkle ½ teaspoon of loose synthetic substitute).  If using a sugar cube, crush the cube with your spring-loaded baton, survival knife, spare round, or strength-augmented finger.  Splash with bitters.  Swirl or rotate your drinking apparatus to coat.  Plunk in the ice cube.  Liberally apply 3 ounces of whisky.  Sip while brooding in a corner and keeping a close eye on your surroundings.
Now that you have created a drink, how about making a meal 
Just-Glad-to-Not-Be-Hungry Stew
1 can beans, undrained (whatever variety you can find)

1 can tomato soup

1 can corn, undrained

1 can green beans, drained

1 can tomatoes

4 strips beef jerky (optional)

Seasonings, if available, to taste
Open all cans.  Pour contents into cooking pot.  Tear jerky into bite-size pieces and add, if desired.  Heat over hot coals or other heating element.  Stir well and frequently.  Allow to simmer 10-20 minutes, depending on how secure your location is.  Taste, and season as appropriate.  Eat, and enjoy if possible.  If not possible, at least be grateful to have eaten today.  When finished, relocate in case cooking has attracted attention.
CG – FAST and FURIOUS – Don't pause just answer what comes first to mind
On the Rocks, Blended or Bottle and a Shot Glass? 

Bottle and shot glass

(CG – my kinda man!)
Coke or Pepsi? 

Coke

(CG -damn I was liking you…. crap.. OK I like you… damn traitor)
Zombie Apocalypse or mysterious pandemic? 

Zombie apocalypse.

Warp speed or Worm holes?  

Worm holes.

House of Mirrors or House of Horrors? 

House of Mirrors.

Superman or Iron Man? 

Iron Man

Learn battle techniques from a viking or a ninja? 

Ninja

Cowboy hat or baseball hat? 

Baseball hat

Chainsaw arm or shotgun leg? 

Shotgun leg, because typing with a chainsaw isn't good for anyone.
CG – Anything you would like to add… appearances, upcoming releases, where I can find someone to adjust the algorithms for my time machine?
JP: I'd like to spread the word about a great organization I'm partnering with; 10% of my royalties from the sale of Three will be donated to Hope For The Warriors®. 
The mission of Hope For The Warriors® is to enhance the quality of life for post-9/11 service members, their families, and families of the fallen who have sustained physical and psychological wounds in the line of duty.  Hope For The Warriors® is dedicated to restoring a sense of self, restoring the family unit, and restoring hope for our service members and our military families.
They're an extremely well-run organization with a great track record, and they're doing some incredibly important work.  Whether folks buy my book or not, I'd love it if people would visit http://www.hopeforthewarriors.org/ and consider supporting them in their mission.
CG – As someone who was a spouse pre and post 9/11 this makes me especially proud to be supporting this book and author. Thank you so much, Jay, for being on the Cabin Goddess! I cannot wait to finish THREE and post my review! The PA genre is my favorite above all and this book has kept me enthralled since I opened it. The ARC copy I received from the London office is GORGEOUS! Angry Robot is fast becoming one of my favorite presses! Thank you again!
Jay is a narrative designer, author, and screenwriter by trade. He started working in the video game industry in 1998, and has been writing professionally for over a decade. Currently employed as Senior Narrative Designer at Red Storm Entertainment, he's spent around eight years writing and designing for Tom Clancy's award-winning Ghost Recon and Rainbow Six franchises.
A contributing author to the book Professional Techniques for Video Game Writing, Jay has lectured at conferences, colleges, and universities, on topics ranging from basic creative writing skills to advanced material specific to the video game industry.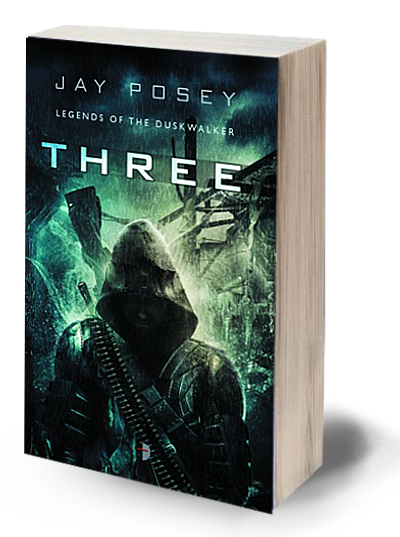 The world has collapsed, and there are no heroes anymore.
But when a lone gunman reluctantly accepts the mantle of protector to a young boy and his dying mother against the forces that pursue them, a hero may yet arise.
UK Print & Ebook
Amazon.co.uk | Book Depository | Waterstones | WHSmith
North American Print & Ebook
Amazon.com | Amazon.ca | BarnesandNoble.com | IndieBound.org