Chocolate, Champagne and Shapeshifters – #Interview with @philippajane #BTR
Hello Philippa Ballantine! Thank you for taking the time to interview with me. I have a somewhat Cabin Goddess standard I change up a bit for each author, but the main jist is here. I hope you enjoy answering these, as they can be quite fun if you want them to be!
I tried to create something that fit with my blog and readers and also allowing you to express yourself and your book in a non-traditional way, if you choose to go that route. In other words, my blog is fun, so have fun yourself!
I interviewed Pip last Friday on Bewitching Talk Radio and had a ball! I am in love with the series thus far, as I am just starting with the first of the four books in The Book of the Order series. How about turning that on as you read here Cabin Goddess
Listen to internet radio with Bewitching Book Tours on BlogTalkRadio
CG –Tweet the book: You are challenged to tweet a synopsis of the book to include your tweet handle, GO! Everyone else SHARE away!
Before she can save the world Sorcha faces her past, her heritage & the people she loves #supernatural #fantasy by @PhilippaJane #Harbinger
CG – Introduce yourself to the captive audience that you now have before you. (As in tell us something NOT in your bio, give us a dirty little secret not having or having to do with your writing)
PB – Though I am from New Zealand, I am not in Lord of the Rings, or the Hobbit. I feel this is a real failing, since so many of my friends were involved. It's my own fault really; I didn't imagine the movies would do so well so I didn't try out! Happy to have been proven wrong though!
However, I do write fantasy and steampunk, so I feel I am in the neighbourhood of Tolkien which is hopefully enough for my fellow New Zealanders!

CG – Is there a genre, other than the one you currently write in, that you wish you could break into? Wanna play? Gimme a flash fiction in that genre!
I have sometimes desires to write horror…
The sunlight burned its way into the milky white eyes of the undead creature standing by the woods. It tilted its head back and foreword, not quite feeling the light that was filtering through the trees, but remembering it should be able to. Light had meant something once; children laughing and playing on a beach. Maybe its own children. Now the light just made the flesh hanging off its body, rot faster. Summer was not the undead's friend.
It shambled off. The light was unwelcome, it reminded the undead creature of a time when the light had been more than that. It had been warm once, now it was all cold.
CG – When it comes to the genre you do write in, what are a few of the books or writers that have influenced you and your own writing (yes I can actually ask a serious question?)
PB – The Morgaine Saga by CJ Cherryh. It told me women didn't always have to be secondary characters in novels. They could take center stage, and they didn't always have to play nice. Sometimes they could be unpleasant, prickly, and make bad choices for themselves.
CG – If you could cast one of your works, who would you choose to play your main characters? (Some have a huge cast, so say no more than five, I am thinking many would be able to do at least one, you do have one character right?
Why? (yes you are going to have to support that choice)
Write one line you would love for him/her to say from your book.
Sorcha- Julianne Moore. I will take the role of leader, if that is what you want, but we are making something else here, something that will be different from what has come before.
Merrick- Nicholas Holt. Let's set ourselves together, and see what we can find. There is a way forward, and like many times before, the Sensitives shall find it.
Raed- Sean Bean. You do what you do best. You make something out of nothing. Isn't that what wielding the runes is all about? You use your own strength to make things happen. You see the path with an enlightened eye that Merrick and you share. You defend, just as you always have. Just because the Mother Abbey is gone, and everything torn apart, that doesn't change who you are.
Zofiya- Nina Dobrev. My duty is to the people of Arkaym. It is for them I must try and talk sense into Kal.
Derodak- Charles Dance. Perhaps by your mortal standards. But I am far from mortal. The rules do not apply. When my people fled to the Otherside, only I was brave enough to come back. I saw another way that they did not agree with.
CG – What is the first thing you would do if you woke up one morning to find one of your books on the NY Times Bestsellers List?
PB – Eat my cereal with chocolate milk, and then do a happy dance!
CG – Do you have any vices that you turn to while you are writing (as in what candy / snack food / drink / 80's hair band you break out in song too when you just cannot figure out the next line to write and that bitch of a muse is off on her own hunt)?
PB – I need a cat at my side. If I am not covered in white cat fur when I am writing the muse just doesn't find me.
CG – What do you do when you're not writing? (ie: What festive things do you do for fun? What things do you do when you make yourself have fun, and what is on the top of your list to do when you actually take two days for you (and family)
PB – I love to travel. I'm lucky in that I get a chance to go to conventions all over the country, and the world. I love meeting new readers, and I love seeing the places they live. I get a real thrill out of ticking off another country or state in my 'to visit list'. Right now I have a desire to see more of Europe—especially St Petersberg!
CG – If your book was a meal what would it be? Meat and potatoes? Vegetarian? A light nouveau cuisine? (I do a recipe with many of my authors this maybe an opportunity for you to share a recipe you think could go along with this? Or just describe the actual meal, this would be the whole thing not just one dish – see below for bonus round)
PB – I think Harbinger would be a good hearty stew. I think it keeps people warm, and it has something in there for everyone. There is plenty of meat in there for the shapeshifters, a dash of spice for those who like the romance, and the potatoes well that could be
Let's make this a real Cabin Goddess "Interview and a recipe"
CG – Make me a drink that is themed for your book?
The Active's Cloak
.75 oz Gin
.75 oz Crème de violette
.25 oz Blue Curaçao
1 Lemon wedge
3 oz Champagne
Mix everything but the champagne together, squeeze in the lemon. Mix in some ice, strain into a champagne flute. Top up with champagne, and try not to see any geists.
BONUS ROUND "MAKE MINE A MEAL" Create (or rename) a recipe for a dish, an appetizer or a dessert that goes with your book. (Even if you opted in for the recipe for your book, this is something for s specific theme dish. 
The Rossin's Revenge
For when you have a crowd of geists coming over, or you are just wanting some comfort food when the shapeshifter is at the door. In our world this dish is called a Chocolate Pavlova.
For the meringue Base
6 large egg whites
2 C superfine sugar
3 T sifted cocoa powder
1 t balsamic or red wine vinegar
2 oz finely chopped dark chocolate
Topping
2 C heavy cream
4 C raspberries
2 oz dark chocolate
Directions
Preheat the oven to 350 F. Cover a baking sheet with parchment paper and draw a 9-inch-diameter circle on it. (You can draw around a cake tin of that diameter)
Turn the paper over so your meringue doesn't touch it, but you can still the circle
Using a mixer beat the egg white until satiny peaks are achieved. Then add in the sugar a tablespoon at a time, beating between each spoonful. Then sprinkle the cocoa, vinegar and the chopped up chocolate into the egg white. Using a rubber spatula fold everything gently in.
Put a dab of meringue in the corner of the drawn circle, and then form the rest of the mix in the circle.
Put in over, and immediately turn the temperature down to 300 F and cook for 60-90 minutes
It is ready when it is crispy on the top, but has a slightly squishy feel underneath.
Crack the over door, and let it cool completely in there. Then invert on a place and peel off parchment.
Whip up the cream, and pile on top, scatter with raspberries and curls of chocolate.
CG – FAST and FURIOUS – Don't pause just answer what comes first to mind
On the Rocks, Blended or Bottle and a Shot Glass? Bottle
Coke or Pepsi? Coke
Call a plumber or use the Duct tape? Duct Tap
Paperback or E-Book? Paperback
House of Mirrors or House of Horrors? House of Mirrors
Star Trek or Star Wars? Star Trek
Fireman or Firestarter? Fireman
Squirrel or Chipmunk?

Squirrel

— (CG- maaaaaaaaaaaaan why do folks like the freaking squirrels!)
Garfield, Snoopy or Scooby Doo? Snoopy
CG – Anything you would like to add… appearances, upcoming releases, where I can find someone to adjust the algorithms for my time machine?
PB – In August I will be attending Authors After Dark in Savannah. It's going to be a wild month, and both conventions are well worth attending!
CG – My girlfriend Heather Mitchell is going to be at AAD and I think I better be sending her my copy of Harbinger for you to sign!! LOL WOOHOOO!
Philippa (Pip) Ballantine
New Zealand born fantasy writer and podcaster Philippa (Pip) Ballantine is the author of the Books of the Order and the Shifted World series. She is also the co-author with her husband Tee Morris of the Ministry of Peculiar Occurrences novels. Her awards include an Airship, a Parsec, and a Sir Julius Vogel. She currently resides in Manassas, Virginia with her husband, daughter, and a mighty clowder of cats.
Author of: Geist, Spectyr, Wrayth and Harbinger (2013) from Ace Books and Hunter and Fox and Kindred and Wings (2013) from Pyr Books
Co-author (with Tee Morris) of Ministry of Peculiar Occurrences— an Airship Award winning steampunk series. Novels: Phoenix Rising and the Janus Affair. Also includes digital short stories and a free award winning podcast series.
Please visit PIP at her favorite spots:
WEBSITE | GOODREADS | TWITTER |FACEBOOK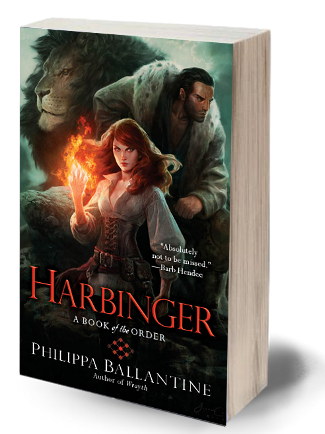 The Deacons of the Order are all that stand between the wicked spirits of the Otherside and the innocent citizens of the Empire. They are sworn to protect humanity, even when they cannot protect themselves…
After the Razing of the Order, Sorcha Faris, one of the most powerful Deacons, is struggling to regain control of the runes she once wielded. The Deacons are needed more desperately than ever. The barrier between the world of the living and the world of the dead is weakening, and the Emperor has abandoned his throne, seeking to destroy those he feels have betrayed him.
Though she is haunted by the terrible truth of her past, Sorcha must lead the charge against the gathering hordes of geists seeking to cross into the Empire. But to do so, she will need to manipulate powers beyond her understanding—powers that may prove to be her undoing…
GOODREADS | AMAZON | BARNES & NOBLE | BOOK DEPOSITORY