Have you been Thulukanized? Maer Wilson & Relics: interview & a recipe
Maer Wilson – Thanks so very much for letting me stop by today! Cabin Goddess – You are so welcome! It was so great having you on the show the other day for Bewitching Radio and having our unknown 15 minutes of chat we did not know was taking place, that was so fun!  Here it is for those that missed it. It is the  start of all our fun, plus we debate YA when we think we are off the air, he hehe.
This is a Bewitching Tour and Maer has an amazing giveaway, so don't miss out and entering!

Now that that is over with… lets get on with the show!
CG –Tweet the book: You are challenged to tweet a synopsis of the book to include your tweet handle, GO! (tweet is below in the button! Go forth and tweet, people!!)
Tweet
//
MW – Have you been Thulukanized? When myth and magic return to earth will you be ready?   #Book #Kindle http://amzn.to/10h79tC
CG – Introduce yourself to the captive audience that you now have before you. (As in tell us something NOT in your bio, give us a dirty little secret not having or having to do with your writing)
MW –While some people know I'm a gamer and play Massively Multiplayer Online Role-Playing Games (MMORPG) or MMOs for short, they probably don't know that I am a raider. Raiders are focused on endgame and getting together in groups to kill the big bosses in a game. I'm much more casual than I used to be, but there was a time when I was pretty hardcore and raided 12-15 hours a week. Now I raid about 4 hours a week.
CG – Is there a genre, other than the one you currently write in, that you wish you could break into? (If you want you can – I would love it if you did – a max flash fiction of no more that 500 with the prompt of "LIGHT" since summer is almost here (Yes this could work with romance, mystery, humour, textbooks on quantum physics.. own it, title it and GO!)
MW –I'll probably dabble in sci fi at some point. I don't have anything in mind yet, but maybe down the line something will pop up.
CG – When it comes to the genre you do write in, what are a few of the books or writers that have influenced you and your own writing (yes I can actually ask a serious question?)
MW –This is a tough question to answer because I think every book I've ever read has influenced me in some way or other. Surprisingly, my very favorite books are not in my specific genre, although they are close. I adore George R.R. Martin, J.K. Rowling, Isaac Asimov and so very many more.
CG – If you could cast one of your works, who would you choose to play your main characters? (Some have a huge cast, so say no more than five, I am thinking many would be able to do at least one, you do have one character right? Include photos of choice or I Can find them also – include photo credits or links where they are found)
La Fi – Jennifer Lawrence – She's an excellent actress and in this picture even looks like I imagine La Fi – personality and all!
"Thulu! You can't predict things that you can make happen. It doesn't count."
Thulu – Chris Hemsworth – He's closest to what I imagine Thulu to look like, although Thulu's dimples are much more prominent.
"Aren't you going to make a smart-ass comment about more self-fulfilling prophecies?"
Jones –  Shemar Moore – During the time I was writing Relics, I was watching Criminal Minds and he was in my head as I wrote Jones. This was the only actor I pictured during the entire writing process.
"Yes, but I am not human and to expect me to live by your rules or values is unrealistic. For my kind, I am quite altruistic."
Reo Malone – Chace Crawford – Reo is a complex character and requires an actor who can play both his male and female personas. Chace looks the way I picture Reo.
"You can't put the genie back in the bottle."
CG – What is the first thing you would do if you woke up one morning to find one of your books on the NY Times Bestsellers List?
MW –I think I'd be in too much shock to do anything other than sit and stare. I'd probably have friends and family check it out to be sure it was real. But I probably still wouldn't believe it.
CG – Do you have any vices that you turn to while you are writing (as in what candy / snack food / drink / 80's hair band you break out in song too when you just cannot figure out the next line to write and that bitch of a muse is off on her own hunt)?
MW –I listen to music while I'm writing: film and gaming soundtracks. I don't get stuck very often and when I do I let it percolate in my brain until it's ready to come out. I'll do something else like watch TV, read, work on a puzzle or find a craft thing to do. Anything to get my conscious mind off and let my sub-conscious work away.
CG – What do you do when you're not writing? (ie: What festive things do you do for fun? What things do you do when you make yourself have fun, and what is on the top of your list to do when you actually take two days for you (and family) 
MW –This depends on the time of year. In summer I'll go hiking or walk my younger dog. Now and then I'll put the top down on the car and drive over the pass to Vegas or into one of the small towns in Southern California for lunch with a friend. I'm more than ready for a road trip this summer and hoping to go to Disneyland. I haven't been in years and would like to go.
In winter, it's more indoor activities like crafts, puzzles and such. Of course, all year long, it's gaming time in my various MMOs!
CG – If your book was a meal what would it be? Meat and potatoes? Vegetarian? A light nouveau cuisine?
MW –Without a doubt it would be one of the Thulukan barbeques. They have everything at these events: chicken, steak, salads of every kind, veggie platters and fruit platters. And of course "Burger à la Fi".
Let's make this a real Cabin Goddess "Interview and a recipe"
CG – Figure out a drink (with or without booze) representing your book in name an ingredients (this could be a renamed established drink)
MW –La Fi's favorite wine cooler – Red Moscato wine and Cherry 7 Up over ice. She likes drinking these at the family barbeques.
BONUS ROUND "MAKE MINE A MEAL" Create (or rename) a recipe for a dish, an appetizer or a dessert that goes with your book. 
"Burger à la Fi"
La Fi fixes these without a real recipe. She plays around with spices and such and while the basics remain the same, she does throw other things in now and then to try something different.
Basics to taste – Teriyaki Sauce, Soy Sauce, Ginger, Allspice, a little brown sugar mixed together in a bowl until the sugar and spices are dissolved. Then thoroughly mix into lean hamburger and marinate for several hours. Best grilled.
CG – FAST and FURIOUS – Don't pause just answer what comes first to mind
 On the Rocks, Blended or Bottle and a Shot Glass? – 

On the Rocks

Coke or Pepsi? – 

Coke

Call a plumber or use the Duct tape? – 

Plumber

Paperback or E-Book? – 

E-Book

House of Mirrors or House of Horrors? – 

House of 

Horrors

Star Trek or Star Wars? – 

Dead heat – no way to choose this.

Fireman or Firestarter? – 

Fireman

Squirrel or Chipmunk? – 

Squirrel – other gamers will know exactly why!

Garfield, Snoopy or Scooby Doo? – 

Snoopy!

 
CG – Anything you would like to add… appearances, upcoming releases, where I can find someone to adjust the algorithms for my time machine?
MW –Thanks again so very much for hosting me today and for such a fun interview! CG – Thanks for being here, it was a blast and I cannot wait to feed the masses with a ton of "Burger à la Fi" this summer!
Relics
When the creatures of myth and magic return to Earth, they're nothing like your mother's fairy tales.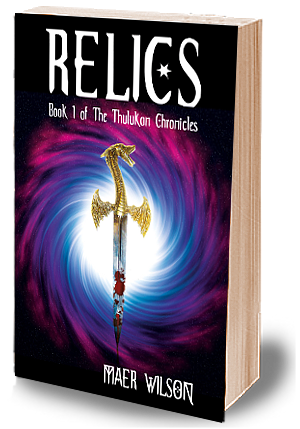 Most of Thulu and La Fi's clients are dead. Which is perfect since their detective agency caters to the supernatural. So, a job finding relics for an ancient daemon should be simple.
The daemon needs the relics to keep a dangerous portal closed. His enemy, Gabriel, wants the relics to open the portal and give his people access to a new feeding ground – Earth.
Stunning humanity with their existence, portals to other worlds begin to open and the creatures of magic return to Earth.
When Gabriel threatens their family, Thulu and La Fi's search becomes personal. They'll need powerful allies in the race to find the relics before Gabriel does. But maybe that's what grateful dead, magical allies and daemonic clients are for.
———————
Maer Wilson
After a successful career being other people, and later teaching others the many tricks of that trade, Maer Wilson has decided to be herself for a while.

Turns out she's a writer. She's always loved stories, especially fantasy, mystery and sci fi. Maer was born in the Year of the Dragon and has a dragon-themed room in her home, but sadly no dragons in the back yard.

When she's not writing, Maer plays online video games, teaches college and reads. She also co-hosts the literary podcast, "MythBehaving". She lives in the high desert of Southern Nevada with her two dogs, a chihuahua and a poodle.
 OMG GIVEAWAY!!
Related articles